Creating a next-generation network services architecture
Next-generation networks must converge on a new services architecture as well as on IP transport. This audio/visual Planner's Guide will take you through the steps in the next-gen services network evolution that will eliminate any remaining silos.
Looking for something else?
Next-generation networks need to converge on a new services architecture as much as they need to converge on IP transport. In this audio/visual TMT Advisor Planners Guide, CIMI Corp. President Tom Nolle walks you through the evolution of the network services layer, tracing it from the one-network-per-service era, to today's more converged architecture. What comes next is a next-gen services architecture model that uses common components and key technologies to eliminate remaining services silos.

Download this free guide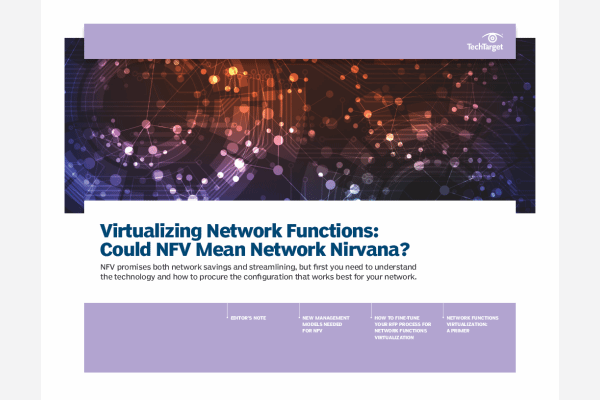 Download Now: Virtualizing Network Functions Handbook
NFV promises both network savings and streamlining, but first you need to understand the technology and how to procure the configuration that works best for your network.
By submitting your email address, you agree to receive emails regarding relevant topic offers from TechTarget and its partners. You can withdraw your consent at any time. Contact TechTarget at 275 Grove Street, Newton, MA.
You also agree that your personal information may be transferred and processed in the United States, and that you have read and agree to the Terms of Use and the Privacy Policy.

(Sponsored by CIMI Corp. and SearchTelecom.com.)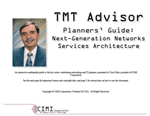 Click on the image above to begin the audio-annotated PDF presentation.
Directions: Click on the image above. When the PDF opens, advance the slides using the arrows at the bottom of the screen. The audio portion of the guide will begin on Slide 3. When the audio portion of each slide is complete, go to the next slide using the arrow at the bottom of the screen. You can replay the file at any point by pressing the "speaker" sound button on the bottom left of each slide, or stop the audio by pressing the "disabled speaker" button on the bottom left of the slide.
About the Presenter: Tom Nolle is president of CIMI Corporation, a strategic consulting firm specializing in telecommunications and data communications since 1982. He is the publisher of Netwatcher, a journal addressing advanced telecommunications strategy issues. Check out his SearchTelecom networking blog Uncommon Wisdom.
Dig Deeper on Next-Generation Network Architecture