CDMA (Code-Division Multiple Access)
CDMA (Code-Division Multiple Access) refers to any of several protocols used in so-called second-generation (2G) and third-generation (3G) wireless communications...(Continued)
What is Code-Division Multiple Access (CDMA)?
Download: IT Acronyms - A Quick Reference Guide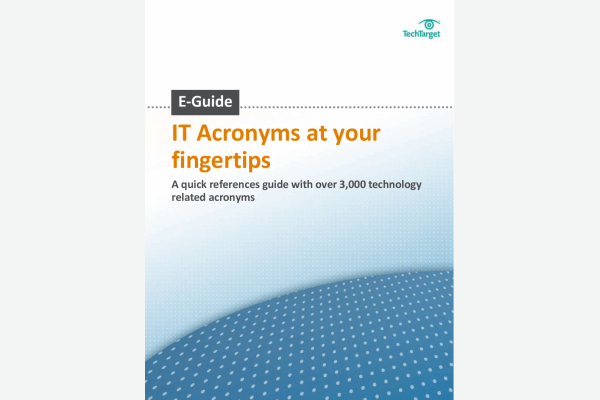 Download this free quick reference guide with over 3,000 IT acronyms; including a special section of the top 15 acronyms you need to know today.
By submitting your personal information, you agree to receive emails regarding relevant products and special offers from TechTarget and its partners. You also agree that your personal information may be transferred and processed in the United States, and that you have read and agree to the Terms of Use and the Privacy Policy.

Also see CDMA One, CDMA2000, and W-CDMA.
CDMA (Code-Division Multiple Access) refers to any of several protocols used in so-called second-generation (2G) and third-generation (3G) wireless communications. As the term implies, CDMA is a form of multiplexing, which allows numerous signals to occupy a single transmission channel, optimizing the use of available bandwidth. The technology is used in ultra-high-frequency (UHF) cellular telephone systems in the 800-MHz and 1.9-GHz bands.
CDMA employs analog-to-digital conversion (ADC) in combination with spread spectrum technology. Audio input is first digitized into binary elements. The frequency of the transmitted signal is then made to vary according to a defined pattern (code), so it can be intercepted only by a receiver whose frequency response is programmed with the same code, so it follows exactly along with the transmitter frequency. There are trillions of possible frequency-sequencing codes, which enhances privacy and makes cloning difficult.
The CDMA channel is nominally 1.23 MHz wide. CDMA networks use a scheme called soft handoff, which minimizes signal breakup as a handset passes from one cell to another. The combination of digital and spread-spectrum modes supports several times as many signals per unit bandwidth as analog modes. CDMA is compatible with other cellular technologies; this allows for nationwide roaming.
The original CDMA standard, also known as CDMA One and still common in cellular telephones in the U.S., offers a transmission speed of only up to 14.4 Kbps in its single channel form and up to 115 Kbps in an eight-channel form. CDMA2000 and Wideband CDMA deliver data many times faster.
| | |
| --- | --- |
| | Getting started with CDMA |
To explore how CDMA is used in the enterprise, here are additional resources:
CDMA and GSM: What's the difference?: The differences between the two competing cell phone technologies are discussed in this article. The piece was inspired by a Brighthand.com reader's question.
3G: The CDMA alternative : CDMA2000 is a third-generation (3G) mobile wireless technology that can support mobile data communications at speeds ranging from 144 Kbps to 2 Mbps. This column discusses the history and specifications of CDMA and explores its benefits.
Ericsson's Nortel LTE, CDMA win gives it 4G advantage: Ericsson's winning bid for Nortel's CDMA and LTE business gives it a launchpad into the early North American 4G market and leaves loser Nokia Siemens Networks in a tricky position.
Continue Reading About CDMA (Code-Division Multiple Access)