Definition
IPTV (Internet Protocol television)
IPTV (Internet Protocol television) is the delivery of programming by video stream encoded as a series of IP packets. IPTV is distributed by a service provider and can be free or fee-based and can deliver either live TV or stored video. It can be bundled with other Internet Protocol services, including VoIP and high-speed Internet access.

Download this free guide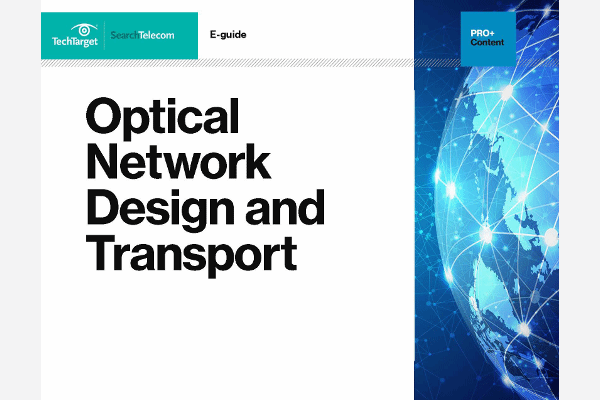 Optical Network Design and Transport 101
Gain best practices for optical network design – including access, metro and core network issues affecting fiber deployment – as well as 3-part overview of DWDM optical network transport.
By submitting your personal information, you agree that TechTarget and its partners may contact you regarding relevant content, products and special offers.
You also agree that your personal information may be transferred and processed in the United States, and that you have read and agree to the Terms of Use and the Privacy Policy.
In traditional television delivery, all programming is broadcast simultaneously. The available program signals flow downstream and the viewer selects which program he wants to watch by changing the channel.
IPTV, by contrast, sends only one program at a time. Content remains on the service provider's network and only the program the customer selects is sent to the home. When a viewer changes the channel, a new stream is transmitted from the provider's server directly to the viewer. Like cable TV, IPTV requires a set-top box.
IPTV primarily uses multicasting with Internet Group Management Protocol (IGMP) version 2 for live television broadcasts and Real Time Streaming Protocol for on-demand programs. Compatible video compression standards include H.264, Windows Media Video 9 and VC1, DivX, XviD, Ogg Theora and the MPEG-2 and -4.
IPTV competes with another delivery model known, somewhat confusingly, as iTV (Internet TV). In the iTV delivery model, content is typically distributed through a website.
| | |
| --- | --- |
| | Getting started with IPTV (Internet Protocol Television) |
To explore how IPTV is used in the enterprise, here are some additional resources:
Defining IPTV to clarify your video planning: IPTV has become a catch-all for TV and video content delivered by a service provider, even though IP isn't always used. A clear definition will help plan bandwidth use.
Planning an IPTV strategy: Video delivered over IP networks in all of its flavors is a huge opportunity as well as a challenge facing telecom service providers. Technology, provider demographics and content must be aligned.
Continue Reading About IPTV (Internet Protocol television)
Dig Deeper on Next-Gen Content Delivery and Video