carrier signal definition
A carrier signal is a transmitted electromagnetic pulse or wave at a steady base frequency of alternation on which information can be imposed by increasing signal strength, varying the base frequency, varying the wave phase, or other means. This variation is called modulation. With the advent of laser transmission over optical fiber media, a carrier can also be a laser-generated light beam on which information is imposed.
Virtualizing Network Functions: Could NFV Mean Network Nirvana?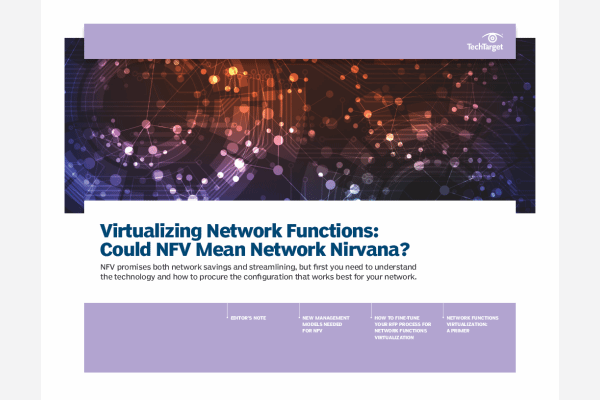 An exploration of Network Functions Virtualization (NFV) basics, covering how NFV fits into existing network systems, and how to procure the configuration that works best for your network.
By submitting your email address, you agree to receive emails regarding relevant topic offers from TechTarget and its partners. You can withdraw your consent at any time. Contact TechTarget at 275 Grove Street, Newton, MA.
You also agree that your personal information may be transferred and processed in the United States, and that you have read and agree to the Terms of Use and the Privacy Policy.

Types of analog modulation of a carrier include amplitude modulation (AM), frequency modulation (FM), and phase modulation. Types of digital modulation include varieties of pulse code modulation (PCM), including pulse amplitude modulation (PAM), pulse duration modulation (PDM), and pulse position modulation (PPM).