Definition
telecommunications
Telecommunications, also called telecommunication, is the exchange of information over significant distances by electronic means. A complete, single telecommunications circuit consists of two stations, each equipped with a transmitter and a receiver. The transmitter and receiver at any station may be combined into a single device called a transceiver. The medium of signal transmission can be electrical wire or cable (also known as "copper"), optical fiber or electromagnetic fields. The free-space transmission and reception of data by means of electromagntetic fields is called wireless.

Download this free guide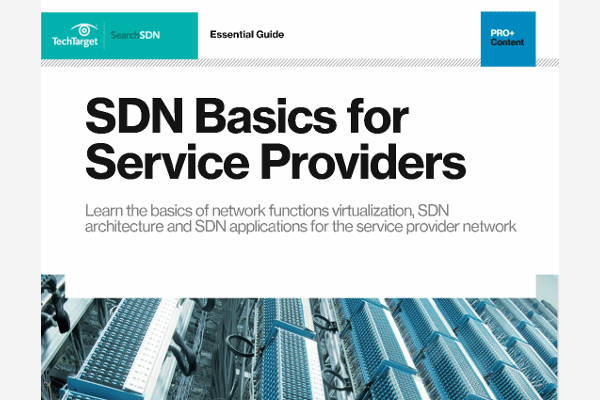 SDN Basics for Service Providers
Before software-defined networking can be utilized to cut costs and increase network speed and flexibility, service providers have to understand the fundamentals first. Access this essential guide to learn SDN and NFV basics from terminology to technology choices and the challenges service providers face with SDN environments.
By submitting your email address, you agree to receive emails regarding relevant topic offers from TechTarget and its partners. You can withdraw your consent at any time. Contact TechTarget at 275 Grove Street, Newton, MA.
You also agree that your personal information may be transferred and processed in the United States, and that you have read and agree to the Terms of Use and the Privacy Policy.

The simplest form of telecommunications takes place between two stations. However, it is common for multiple transmitting and receiving stations to exchange data among themselves. Such an arrangement is called a telecommunications network. The Internet is the largest example. On a smaller scale, examples include:
Corporate and academic wide-area networks (WANs)
Telephone networks
Police and fire communications systems
Taxicab dispatch networks
Groups of amateur radio operators
Data is conveyed in a telecommunications circuit by means of an electrical signal called the carrier or carrier wave. In order for a carrier to convey information, some form of modulation is required. The mode of modulation can be broadly categorized as either analog or digital. In analog modulation, some aspect of the carrier is varied in a continuous fashion. The oldest form of analog modulation is amplitude modulation (AM), still used in radio broadcasting at some frequencies. Digital modulation actually predates analog modulation; the earliest form was Morse code. During the 1900s, dozens of new forms of modulation were developed and deployed, particularly during the so-called "digital revolution" when the use of computers among ordinary citizens became widespread.
In some contexts, a broadcast network, consisting of a single transmitting station and multiple receive-only stations, is considered a form of telecommunications. Radio and television broadcasting are the most common examples.
Telecommunications and broadcasting worldwide are overseen by the International Telecommunication Union (ITU), an agency of the United Nations (UN) with headquarters in Geneva, Switzerland. Most countries have their own agencies that enforce telecommunications regulations formulated by their governments. In the United States, that agency is the Federal Communications Commission (FCC).
Continue Reading About telecommunications
Dig Deeper on Telecom Network Management