Problem solve
Get help with specific problems with your technologies, process and projects.
To consumers, smartphone support matters more than 'gadget factor'
Wireless carriers think smartphones' unique capabilities make them desirable to consumers. Over time, though, the "gadget factor" may be trumped by customer service, especially smartphone support, for carriers looking to retain customers.
The recent Consumer Electronics Show (CES) in Las Vegas featured the introduction of a dazzling array of
If smartphone support is bad enough, consumers will quit and migrate to different carriers.
Mike Jude
Program ManagerStratecast/
Frost & Sullivan
new smartphones, ranging from the new Google Nexus One to improvements in existing offerings by Nokia, HTC and Motorola, as well as new implementations of pocket PCs using upgraded Microsoft software. It is clear from the glowing pronouncements of wireless carriers that they consider the capabilities of the smartphones they offer to be a primary competitive differentiator. This is something I call the "gadget factor" -- the more capabilities a device has, the higher its desirability.

In the long run, though, the gadget factor may be trumped by something more basic: customer service, especially when it comes to smartphone support.

Download this free guide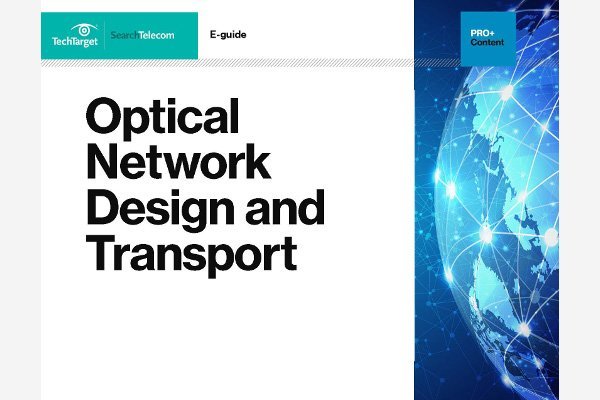 Optical Network Design and Transport 101
Gain best practices for optical network design – including access, metro and core network issues affecting fiber deployment – as well as 3-part overview of DWDM optical network transport.

By submitting your personal information, you agree that TechTarget and its partners may contact you regarding relevant content, products and special offers.

You also agree that your personal information may be transferred and processed in the United States, and that you have read and agree to the Terms of Use and the Privacy Policy.

In a recent Stratecast consumer survey, we asked respondents to rate their wireless carriers' customer care. While 40% rated their wireless customer service as excellent, 60% indicated that they considered their provider's service to be less than excellent, and a full 8% categorized their service as poor to very poor.

Combine this consumer perception with the likelihood that dissatisfied consumers who feel they have been mistreated will jump to a different carrier, and you have a prescription for a great deal of churn. This is especially true if one can surmise, generally speaking, that smartphones require much more hand-holding to ensure that customers understand how to use them. And with all the bells and whistles, there are probably more things that can go wrong, requiring even more smartphone support for customers.

The implication for carriers is clear: While glitz attracts, customer care retains, and in the wireless business, it is retention that matters. Since smartphones are usually sold at a substantial discount subsidized by the carrier, it is essential that customers stick around long enough to allow carriers to recoup costs. But even with early termination fees, if smartphone support is bad enough, consumers will quit and migrate to different carriers. With regulators paying attention to such things, of course, there may not be much point in building business cases on the expectation of early termination

fees.

As Sprint's experience with phone customer service illustrates, carriers ignore service at their peril. Sprint's customer care -- at one point, largely perceived to be the worst in the industry -- ultimately instigated a hemorrhage of subscribers that still hasn't abated. And even though the Stratecast survey's results indicate that Sprint's customer service support is much better now, the company is still losing subscribers.

Carriers must focus on customer care at every stage of the consumer experience, and even more so as most devices become smart devices. It is no longer enough to ensure that billing is accurate and that the handset works when the customer walks out of the store. Carriers must provide extensive online and live help, available at hours when consumers can be expected to require assistance. Carriers must also ensure that their customer care personnel are well trained on the capabilities of the new smartphones -- there is nothing worse that talking to a customer service representative who knows less about the phone instrument than you do.

The bottom line is that smartphones deliver on the gadget factor, but customers also demand a higher focus on smartphone support. Anything less will only generate ill will toward carriers and negate the competitive advantages that such a nifty new instrument can confer.

About the author: Mike Jude is a program manager at Stratecast/Frost & Sullivan in charge of the consumer communication services practice. He brings 30 years of experience in technology management in manufacturing, wide-area network design, intellectual property management and public policy. Jude holds degrees in electrical engineering and engineering management and a Ph.D. in decision analysis. He is co-author of The Case for Virtual Business Processes: Reduce Costs, Improve Efficiencies and Focus on Your Core Business, Cisco Press, 2003.



Dig Deeper on Telecom Resources
PRO+
Content
Find more PRO+ content and other member only offers, here.