Evaluate
Weigh the pros and cons of technologies, products and projects you are considering.
The application enablement-based broadband model as network savior
In The Shift, Alcatel Lucent argues that a broadband model based on application enablement can help ecosystem-development stakeholders solve rising costs, falling ARPU and vanishing ROI.

Over the past decade, user behavior has changed and consumption of Internet video has exploded. Broadband technology has expanded and mobile devices have become nearly ubiquitous, leading to broadband model evolution and changes in pricing to address plummeting average revenue per user (ARPU). A new focus on application enablement made the old "killer app" provider focus obsolete. In its place is a new system that is more open to the application developers themselves.

Download this free guide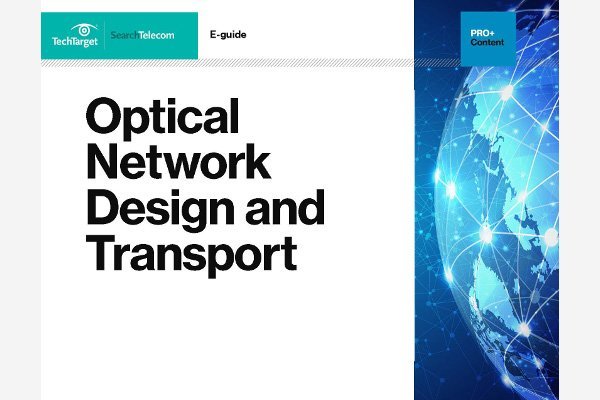 Optical Network Design and Transport 101
Gain best practices for optical network design – including access, metro and core network issues affecting fiber deployment – as well as 3-part overview of DWDM optical network transport.
But when so many foundations are shaken in a short period of time, the natural question is: What comes next? If service providers have to keep investing in network infrastructure to handle growing traffic but don't see any uptick in revenues, where is their return on investment (ROI)? If there's no ROI, why continue to pour money into expansion? If service providers don't invest and expand, how does the next site or service poised to revolutionize the Web actually reach its audience? And most important to network operators, with bandwidth demand increasing exponentially, can providers sustain network capacity growth and find viable ways to monetize all that traffic?
In the prologue to The Shift: The Evolving Market, Players and Business Models in a 2.0 World, published by Alcatel-Lucent, authors Allison Cerra and Christina James lay out an approach to create a profitable and sustainable broadband model based on application enablement principles that takes the realities of a new market environment into account. Rather than trying to further split decreasing revenues among application developers, device manufacturers, advertisers and service providers, Cerra and James argue for "baking a bigger, better pie" by leveraging the power of the network as a tool for application enablement, development and delivery.
Click here to download the prologue to The Shift. (Reproduced with permission from The Shift: The Evolving Market, Players and Business Models in a 2.0 World by Allison Cerra and Christina James. Copyright 2010, Alcatel-Lucent. All rights reserved).
---
About the book:
In The Shift: The Evolving Market, Players and Business Models in a 2.0 World, authors Allison Cerra and Christina James discuss how service providers, developers, advertisers, consumers and business users can all benefit from employing intelligent networks as development platforms. Citing research commissioned by Alcatel-Lucent, Cerra and James explain that only "a collaborative communications ecosystem" can address the myriad challenges that consumers, enterprises and markets face as a result of fast-paced technological evolution, increasing adoption rates and industry fragmentation.
Check out The Shift: The Evolving Market, Players and Business Models in a 2.0 World to read more about:
The different ways in which "Baby Boomers," members of "Generation X" and the so-called "Millennial" generation all relate to the Web 2.0 world;
How the emerging behaviors of those discrete groups create opportunities for major changes in the value chain;
The primary disruptors within the 2.0 ecosystem;
The potential for developers and advertisers to promote changes in 2.0 business models;
How consumers influence the 2.0 marketplace in arenas like video, social networking and gaming;
How the 2.0 evolution affects enterprises of all sizes (from small businesses to global corporations) and in all verticals (including health care, government and education) at each point in the value chain.
Dig Deeper on Next-Generation Network Architecture